A Professional Medical Billing Company to Outsource Your Medical Claims Filing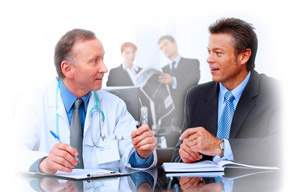 Free up your staff from the time-consuming task of filing claims and endless follow-up. Outsource the entire process to medical billing professionals.
Vitruvian MedPro Consulting can shorten the time it takes your practice to receive payment from an industry average of 90 days to as little as 7 days. We are trained professionals who are equipped with proprietary, state-of-the-art systems that allows us to electronically file medical claims for you.
Eliminate Software Hassles
No Complex Installations
Web-Based System
Automatic Updates
24/7 System Availability
24/7 Access to Patients' Data Via the Internet
The Benefits of Outsourcing:
Speeds Up the Payment Process – Electronic medical claims filing drastically reduces the amount of time it takes to collect payments from the insurance companies. Change collection times from 60-90 days to just 7-21 days by using our web-based systems and services to handle claims instead of insurance company "gatekeepers."
Lower Claims Rejection Rates – Watch rejection rates fall from 30% to 2% using our web based system. Move claims faster through the system and forget worries of "lost" claims by insurance companies. Nothing is lost when everything is accounted for electronically through acceptance reports.
Frees Your Time – Take more time for patients, build your practice, concentrate on providing care. Allow your staff to focus on your practice's priorities.
Immediate Cost Savings – Witness immediate cost savings when outsourcing your medical billing. A recent survey from the Medical Group Management Journal showed the average cost of an internal billing department is 11% of a practice's income. Keep your earnings and cut your costs with Vitruvian MedPro Consulting.
Still have questions about our medical billing services?
Read more in our Medical Claims Processing FAQs