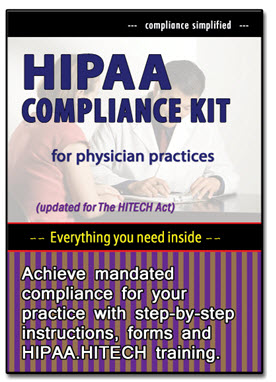 HIPPA Kit:
Simplest Method to Achieve Compliance
Based on HHS, CMS, OCR, and NIST Guidelines
Updated with final HITECH Onmibus Rules
Updated with Breach Notification Rule
Step-by-Step Video Instructions
Training and Support via Email and Phone
Risk Assessment
Business Associate Agreements
Contingency Plans
Easy to Learn, Easy to Use
Full Turnkey HIPAA Compliance Solutions
The Tools You Need to Avoid "Willful Neglect"
With the passage of the HIPAA-HITECH Omnibus Rules in January of 2013, the government has taken a more proactive approach to audit practice of all sizes to ensure that they are HIPAA Compliant. Medical practices have until September 23, 2013 to updated their HIPAA compliance programs to meet the requirements of the final Omnibus Rules.
At Vitruvian MedPro we are proud to offer a an affordable compliance solution that meets all the requirements under the final Omnibus Rules.
The HIPAA Compliance Kit is the most intuitive, easy to use turnkey solution for total HIPAA compliance available. In 8 steps, fully outlined with video instructions you can get your practice on the path to compliance and out of "Willful Neglect".
Protecting the security of your patient information is vital to the well being of your practice. Last year over 18 million patient files were stolen or made public and the number is estimated to rise this year as criminals target medical files. HIPAA compliance is the key to securing your practice against data leakage, protecting your reputation and avoiding punitive fines.
We offer a full line of compliance products and services with a complete compliance solution or we can update your existing program with the final HITECH Omnibus rules changes.
The HIPAA Compliance Kit brings order to the complexity of making your practice HIPAA Compliant. Using our exclusive Step-by-Step process you can be proactive in protecting the privacy of your patient records.
We are experts in the field of medical risk assessments, the fundamental step in your HIPAA compliance and a requirement to meet "Meaningful Use" Stage 1 and 2.
Each step of compliance is fully explained and contains the information and forms you need to achieve compliance. In addition, the policies and procedures, forms and letters are in separate folders for your staff to access and use. The forms are dynamic, savable PDFs so that you can keep your office paperless. Most forms must be kept for a period of six years and electronic format is allowed under the HIPPA laws.
Let us help you review your HIPAA compliance status and show you how our system gives you the tools to avoid "Willful Neglect". If your practice is going through "Meaningful Use" we can help you with the required Security Risk Assessment.
Per the Office of Civil Rights (OCR), conducting a risk analysis is the first step in identifying and implementing safeguards that comply with and carry out the standards and implementation specifications in the security rule.
Our Solution:
Risk Assessment with a Risk Management Plan
8 Step DVD Training with Savable PDFs
8 Step Paper Binder used for Training
Specific Training for the HIPAA Compliance Officer
Complete HIPAA Training Videos based on OCR, CMS and NIST Guidelines
Training and Support via Email and Phone
Call 781-454-7406 to have a HIPAA sales associate review the only turnkey HIPAA compliance solution available. 15 minutes of your time is all it takes to review your practice's HIPAA compliance status. If we find that your practice is not in HIPAA Compliance status we can outline a plan to get you compliant.
Visit our blog for up to date information on HIPAA Compliance Audits.